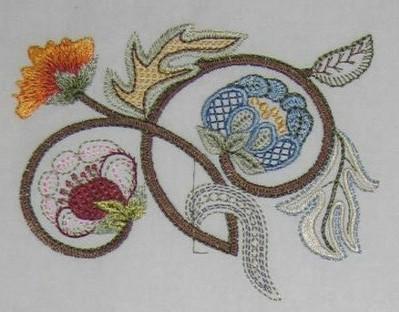 LB215
LB215 Design Size: 119mm x 88mm (4.69" x 3.46") 13414 Stitches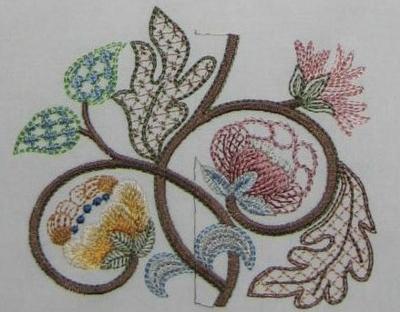 LB216
LB216 Design Size: 119mm x 100mm (4.69" x 3.94") 15766 Stitches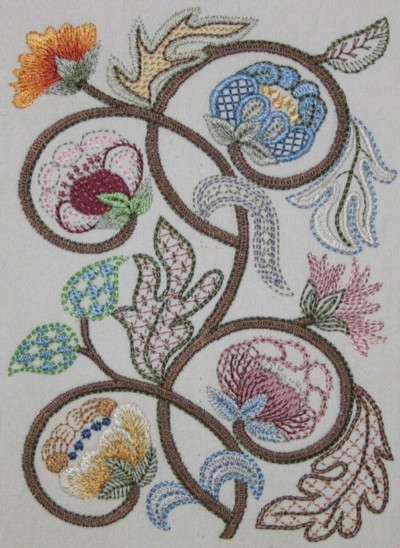 215216
This is the pair put together for those with larger hoops.
Design Size: 119mm x 164.3mm (4.69" x 6.47") 29160 Stitches
All 3 files will be included.
Regular Price $8.00 Introductory Price $5.25
Photo showing all 4 pairs together

All four pairs measure 119mm x 645mm (4.69" x 25 3/8th")
Click on the photo to really SEE the detail.
At the bottom end of the design (right side of photo) , you can see the lining up stitches all ready to add a future pair.

To see the rest of the designs for this border click here
And my project this time IS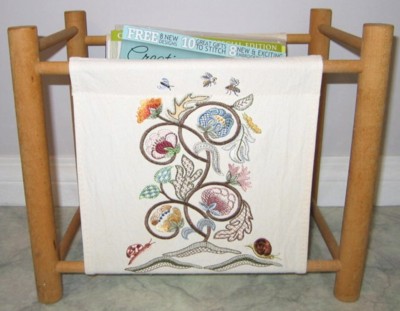 A magazine rack.
I added the mounds and some grubs and bugs found on the other crewel pages)



All designs and artwork on this website are Copyright to Lindsay Boulton.
With the purchase of my designs, you are purchasing a licence to use my designs for personal use only, to embroider on items for yourself, or that you give away, or sell (in limited quantities). You may not sell the design file or otherwise copy, distribute or give the files to any other party. By purchasing my designs you are agreeing not to share, trade, copy and/or sell any designs alone or in a set.
Because of the nature of electronic sales, all sales are final. No refunds after the designs have been delivered. Defective files will be replaced upon verification of your order.
View Cart / Check Out
---
| Fourth Pair Another Crewel Border | Another Crewel Border | Wild Floral Vine | Blue Harmony | Aster Profusion | Garden Gate | Leaf Trellis | White Work | Neckline Designs | Geometric Designs | The Glenn Harris Design Giveaway | Victorian Circle | Circle of Winter | Circle of Fall | Circle of Summer | Circle Of Spring | Birds of B.C. | Paisley | Petite Designs | Borders | Crewel Frame | Corner Flower and Pods | Freestanding Lace | Special Occasions | Miscellaneous Designs | At the Seaside | South West Designs | Sports | Complimentary | Chinese Folk Set | Complimentary Letters |
---
| Return Home | Contact Us | Great Links | Free Downloads | Design Gallery | Project Pages | Gift Certificates | About Copyright |